Being the mother of an athlete is a challenging yet rewarding role.  So momsTEAM has designated May as Sports Moms Month and is celebrating by asking some of our favorite sports moms to share their wisdom by responding to a series of questions. 
So far this month we have heard from a fascinating range of sports moms, from a mom of an Olympic athlete to moms who were themselves Olympic athletes, from a mom of two former minor league baseball players to a Minnesota hockey mom and author.
For Mother's Day, we hear from MomsTEAM's founder and publisher, Brooke de Lench:
momsTEAM: Were you an athlete and what sports did you play as a youth (under 19)?
de Lench: I was born to very athletic parents. My mother was a professional swimmer (water ballet), who grew up in California, and my father was a three-sport captain at his New England high school whose dream of a professional baseball career was cut short by World War II.  My parents always told me that I was swimming at 6 months and walking (really running) from the time I was nine months.  My parents divorced when I was ten, so my time was split between the seaside town in Massachusetts where I was raised in by my mother, and the ski slopes of Stratton Mountain in Vermont, where my dad had moved to build trail-side vacation homes and to help develop a ski area out a tree-filled mountainside.  I was captain of my high school field hockey team, which won the Massachusetts state championship and an avid tennis player, skier and swimmer before going off to college and playing squash at the tournament level.
momsTEAM; What was the most rewarding aspect of being a sports mom?

de Lench: I truly loved the "community" that sports afforded me as a parent. It was a great way to connect with other parents and work toward a common goal. One year when the middle school football program in which one of my sons played was about to fold due to budget cuts, I rolled up my sleeves, spearheaded and raised the $50,000 they needed to keep going.  When that same son's  high school football program needed new helmets and a weight room,  I again headed up and worked with  a group of dedicated parents to raise another $60,000.  Being part of a team of parents was as close as I came, to that point, of being captain of my field hockey team, and it was a great feeling to know we all made a huge difference in the lives of so many kids who would not have been as safe without our help.

momsTEAM: What lesson has your sports active child taught you?
de Lench: I have learned so many lessons from my fraternal triplet sons along the way, but the best one was not to push them into a sport, but to give them a chance to try a lot of different sports until they found the one they really loved, because that the was the sport in which they would likely excel.  I introduced my sons to so many sports: skiing, snowboarding, tennis, fencing, squash, soccer, basketball, football, biking, swimming, baseball, archery,  golf, rock climbing, hiking and a few more I am sure I have forgotten. The ones they love - golf, rock climbing, snowboarding - are the ones they continue to pursue as young adults. Another is how to collaborate and work together as a team. 
momsTEAM: What was the most important lesson your children learned from sports?
de Lench: The most important lesson they learned is to continue being active and that they are responsible for taking care of their own bodies. One son is an elite level rock climber who is meticulous about his diet, as are my other sons who have put staying in physical shape at the top of their list of priorities in life. The importance of staying hydrated, eating a high-protein, low fat diet, and regular exercise are lessons they learned which will stay with them for their entire lives.
momsTEAM: If you could "flip a switch" and change one thing about the culture of youth sports what would it be?
de Lench: I would like to see far more women on the boards of youth sports organizations, from the national governing bodies all the way down to local level, especially in predominantly boy's sports such as football, baseball and hockey. I believe youth sports would see positive changes if more women were allowed to take an active role in youth sports policy and rule-making.  From my work deep in the trenches of youth sports, I know that there is a solution-oriented community of mothers in this country ready and eager to take a much more active role in youth sports if they were only given the chance.
momsTEAM: What have you done to make sports better for kids? Please share.
de Lench: When I founded momsTEAM back in August 2000, our mission was to make youth sports safer, saner, less stressful and more inclusive.  Whether youth sports are any saner, less stressful or more inclusive is open to debate.  What I know for certain is that youth sports are safer because of MomsTEAM.  When I started writing about concussions - particularly the danger of second impact syndrome - twelve years ago, we were considered by no less an authority than our original concussion expert, Dr. Robert Cantu, to be the pioneers in concussion education (see video of presentation Bob Cantu made at Concord-Carlisle High School back in 2007).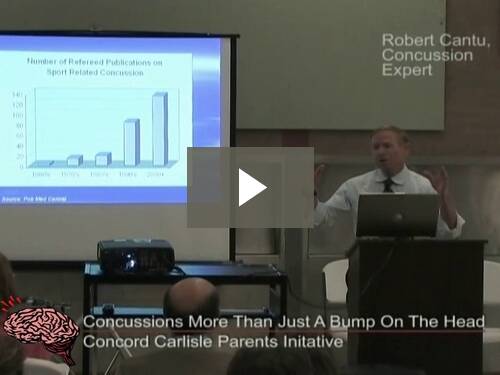 Twelve years later, a day doesn't go by without a story about concussions appearing in newspapers and on countless websites, and a growing majority of states have enacted laws to protect youth athletes against the dangers of returning athletes to sports before their brains have healed.  It is extremely gratifying to see how far the conversation about concussions has come over the past 12 years, although we still have lots of work to do. 
As the nation celebrates Mother's Day, we at MomsTEAM salute everyone who has helped make us the organization we are today, who has helped us get the message out to a large and growing audience of sports moms and dads all across the U.S. and Canada.  It is mothers who have been the guardians of children at play since the dawn of time.  It is those moms we honor today and all through the  month of May.  Together, we have made sports safer over the past 12 years. Together, we will continue to make sports safer for our kids. 
---
Brooke de Lench is the Founder and Publisher of momsTEAM.com, and the author of
Home Team Advantage: The Critical Role of Mothers in Youth Sports.
For more blogs in momsTEAM's May is Sports Moms Month series, click here.